Music in a classroom or at a conference doesn't just create a mood; it also should support any mood you create with the activities and assignments.
Make sure the speakers are big enough to give sound for the entire room, and preferably position the speakers so they are not in one person's ear.
Music for Conference Presentations
When giving a presentation at a conference it is a good idea to choose a theme song to play when you come on stage and even one for leaving the stage. These are called your Intro and your Outro. They can be the same, but they don't have to be.
Choose a theme song which satisfies some or all of these criteria.
The piece of music:
makes you feel good, sets you up to be in the right frame of mind to present (see positive lyrics below)
changes the tempo of the room from the previous speaker, wakes the audience up or comes them down
comments on or pre-frames your speech
is in keeping with your content and style.
If at any point you stop for people to do an activity or reflection, you may want to have some music for that exercise. (See types of music in the next few pages for suggestions of the kind of music to choose). If you've not used the music before test it with a group. What sounds great in your study at 11pm may be too slow, or too intrusive or send the wrong message.
Briefing the sound tech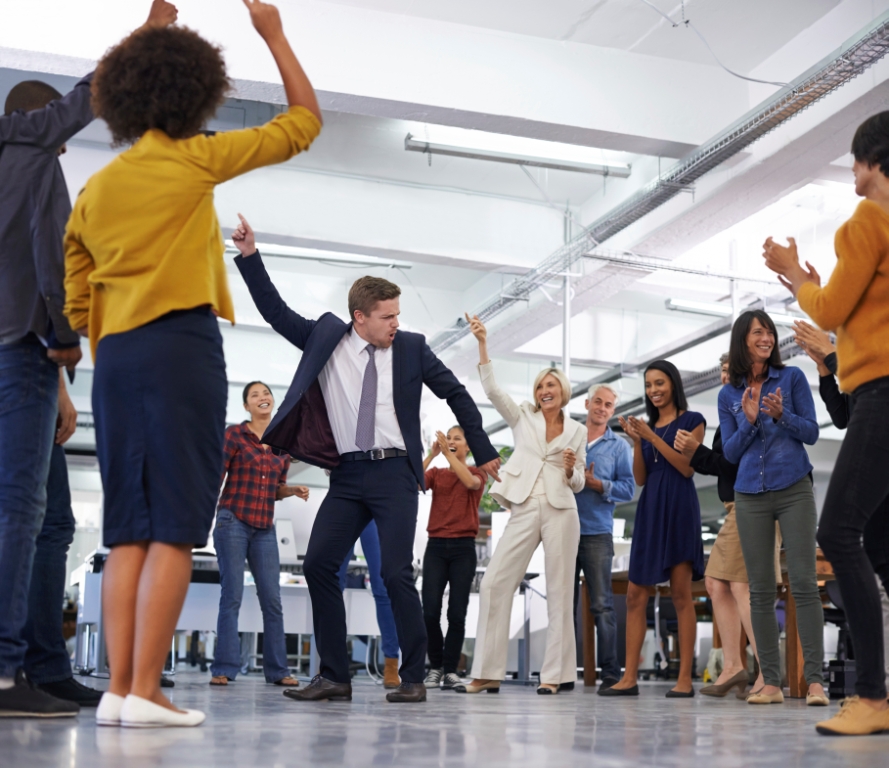 At a conference there will usually be a sound technician whose job it is to cue the music. You cannot trust that they will know exactly what to do and when to do it.
Other useful tips for dealing with the tech:
give them a run sheet
go through the run sheet with them
find out and remember their name so you can always say their name to attract their attention during the presentation if you need them to do something
embed clues in your PowerPoint presentation if you like (see my run sheet below)
take your music on an MP3 player with a 3.5 mm jack: check in advance that this kind of connection will be available
if your music is on your telephone make sure to put the phone to air plane mode before handing it over (nothing more embarrassing than your phone ringing during your own presentation, especially if it's pumped through an amplifier so the whole room can hear it in stereo)
Make a run sheet – here's a sample
It saves a lot of time if you give the technician a run sheet of your presentation. Here is an example of a run sheet I prepared for a conference speech I gave a few years ago.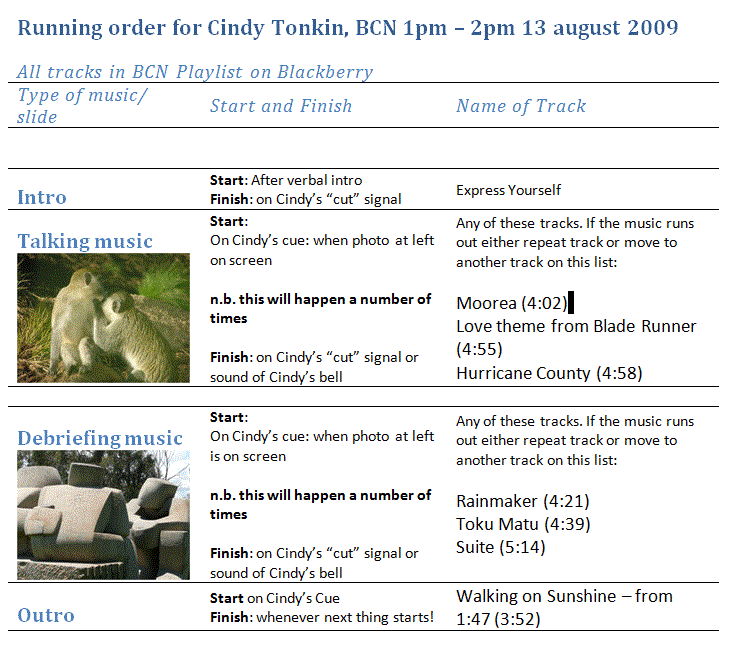 I went through the run sheet with the tech when I arrived at the venue several hours before my speech. Be aware that the technicians have a lot of responsibilities, and you need to find a time when it's appropriate for them if you want them to do it properly.
Because this presentation had a PowerPoint component I was able to use a particular slide (the monkeys whispering, the statues chatting) to anchor the technician to pushing play. The easier you make it for them to cue the music the easier the event will be.
Types of music
Positive lyrics
If you use music with words, make the lyrics positive (since words have an effect on the brain, having participants hearing or mouthing the words "I am a teenage dirt bag" or "you don't treat me no good no more" isn't useful. Better for them to be singing along to "we are the champions", "I want you to want me", or "I feel good").
Lyrics and words don't mix
Music with lyrics can be distracting when people are working with words, so have some instrumental as well.
Baroque music for accelerated learning?
Accelerated learning research recommends Baroque music, because it calms and relaxes the mind, and 60 beats per minute mirrors the heart beat.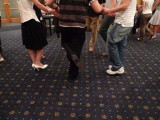 I have found participants have some not so useful anchors around this baroque music ("this sounds like a funeral") so experiment with other types of music.
Match the music and the people
I find it's important to have tunes from the era of the participants – if they are gen y, they aren't going to appreciate the 80's in the same way baby boomers might. Some trainers I know ask participants at training needs analysis time what sort of music they listen to.
And remember it doesn't have to be music YOU like, just music they like which evokes or supports the states you want them to be in!
Use music as an anchor
You can use music as an anchor. When you play the same piece of music repeatedly and let them know what behaviour you want the music to evoke, eventually they know what behaviour you want from them (and will often choose to do it!).
So if you want people to come back from break, establish a call-in song, and play it consistently at the end of break. People will get the drift. Of course it needs to be played in a place where they can hear it (no good playing it in the training room if they are in the breaks room).
Similarly you can use a single tune to
get them back from activities (something upbeat is good)
establish it's thinking time (e.g. you could have a "diary exercise" piece of music – something quiet and pensive, no words!)
establish it's chatting time (if you want them to speak make it lower volume, and avoid anything with words)
Using music to round out the sensory experience
You can also use music to round out a participant's sensory experience. If you're teaching a classification system, give them an auditory demonstration of it.
So for example when I teach Cialdini's 6 influence keys, I use Supertramp's "Give a little Bit" for reciprocity, "The Last Dance" for scarcity, some Beethoven for Authority, some canned laughter for social proof, "I wanna be like you" for liking, etc.
You can do the same thing – if you're at a loss as to what music will work, ask participants to come up with possible "theme songs" for each category you are teaching, and then go online to get the tracks you need.
Organising your music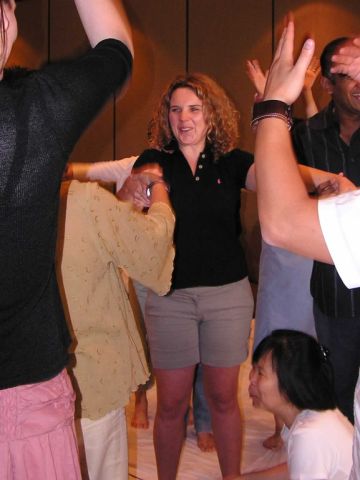 The ultimate is to have someone "driving" the music for you, to match the music to the training content or message (for goal setting sessions, they might play "It's a long way to the top", or "What have you done today to make you feel proud" or "if you want it you got it"). It can be a good way to occupy someone who is training to train your material (and to make them think outside the nine dots about it)
If that's not a luxury you can afford, then perhaps you can do what I have done – I have a series of playlists on my MP3 player and on Spotify which I match to the mood I'm creating.
The categories I use are:
Upbeat positive lyrics
Slower positive lyrics
Upbeat instrumental
Slower instrumental
Get a move on
These categories seem to cover most of what I need.
Before I had an MP3 player, I burned CDs (and before that Mini discs) in these categories. Now I use Spotify.
Upbeat positive lyrics
The category of upbeat positive lyrics currently includes tunes like:
Absolutely everybody
All you need is love
Be yourself
Dancing in the street
Every little step
With a little help from my friends (the Joe Cocker version)
A little less conversation (a little more action)
The only way is up
Search for the hero (inside yourself)
Respect
Think
Smile 'n' Shine
Sweet dreams are made of this
I add to this whenever I hear an upbeat tune I like.
Slower positive lyrics
Slower positive lyrics are for a quieter mood. I rarely use this – if I want slow, I tend to go for the instrumental, but it's there just in case. Tunes in this category include things like
All the love in the world
Smooth operator
Like a star
How sweet it is (to be loved by you)
Teach your children well
Dancing in the street (the Mamas and Papas version)
With a little help from my friends (the Beatles version)
I'm a believer (the Monkees version)
With a little luck
What the world needs now is love
I only want to be with you
Upbeat instrumental
Upbeat instrumental tunes are useful when people are doing things with words (learning a new way to ask for things, interviewing each other). I use a lot of film music (because it's been pre-tested by Hollywood), and some upbeat classical stuff where appropriate. I also put my foreign and world music tunes here – I always check if I can that the words are appropriate. Here is the sort of music I have in here
Angelique Kidjo
Gypsy Kings
Upbeat jazz tunes (classic big band stuff, not the Miles Davis kind)
Johann Strauss (the Blue Danube, for example)
Ricky Martin's Spanish stuff
Slower instrumental
This is where I put the baroque and other classical music, but also some of the slower film music. Anything slower from the artists mentioned in upbeat instrumental works, plus:
Ambient music (as long as it's not annoying!) – I bought an album called Chilled out with some good ones
Charlie Parker (as long as it's not too crazy)
Bill Frisell's guitar music
Some of the lighter Keith Jarrett stuff (again, not too crazy… you need to listen to it)
Movie themes (Dave Grusin has an album of piano versions of his movie themes which is just beautiful)
Lounge music (without words)
Baroque music (there are some designed specifically for learning environments)
Some Mozart
Get a move on
Sometimes people are taking their time to return from activities, or just need a little lift. I'll switch to one of my Get a Move On tunes; they are faster, and tend to make people speed up. If you want to get people to return more quickly, consider keeping one of these tunes for "come back to your desk" music, and play it every time.
Be my guru and Like Wow Wipeout (Hoodoo Gurus)
Some upbeat dance tracks I heard in a store once
World music with lots of drums
Related posts