"Don't call my wife Big Nose!" Monty Python, Life of Brian
How many times today have you had to say no? Or how many times SHOULD you have said no (but didn't).
Felicity is an internal consultant for a pharmaceutical company.
At the beginning of every financial year, she is charged with making sure every division has their strategic and divisional plan in place. And that each plan links back up to the head office strategies which link in turn to the international priorities and key performance indicators.
His complex and it's work she loves.
The problem is that she has a nickname in the company. It's Big Nose.
Not because she has a large nose. Her nose is quite tidy and pretty kinda like a button turned up at the end. They call her Big Nose because she says no. Frequently.
Stretched across a dozen divisions across south-east Asia she could work all day every day and never meet clients' huge need for her help.
They see her as "free" so they come to her for every consulting need. From facilitating a planning session to hosting a team building event, or sorting out a recruitment issue.
She has to say no to them a lot because she is busy.
She is just one person, and she is also not skilled in everything they asked for.
If your clients think of you as Big Nose then you know how she feels.
Felicity needs a way to make her clients feel like her no is actually yes.
When you can make a "no" sound like yes then you feel better and your clients can find a nice nickname for you (all suggestions welcome).
Don't be a big nose. Get skilled in making no sound like yes.
Info here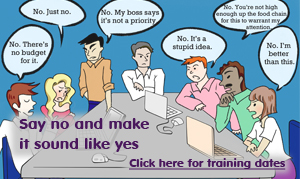 Related posts