Internal Consultants have a difficult time of it: internal customers can perceive them as a bottomless resource and can make endless demands.
When your Internal Consultancy has limited resources, it can be difficult for the people on the ground to please everyone. And just as difficult to meet your strategic objectives.
Make a No sound like a Yes, the Training program, was developed for 20 Internal Consultancy managers to give them ways to manage client expectations and make the client feel good about it. It's making no sound like a yes, making clients feel heard, but still achieving strategic objectives.
If you're keen to understand how, please just call Cindy now on +61 412 135 426, or email her.
More blog posts on making a no sound like a yes here.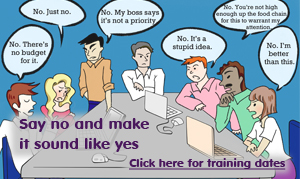 Related posts