Saying no isn't a comfortable experience for you. Or for your clients, colleagues or kids. They don't want to hear it. You don't want to say it.
Read Seth Godin on when you have to say no.
Then follow up with this article from Shane Parrish on saying no: because there's a difference between speed and velocity.
And we know there are so many reasons to say no. So you need to know how to make No Sound Like YES. Contact me to get the program for your team.
More blog posts on making no sound like a yes: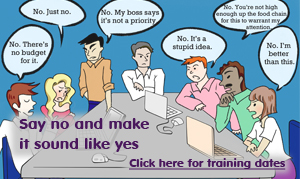 Related posts