Here are 13 delicious ways NOT to say no (no matter how much you want to).
No. It's out of scope.
No. My boss says it's not a priority.
No. It's not important.
No. It's a stupid idea.
No. I don't have time.
No. There's no point.No. You're not high enough up the food chain for this to warrant my attention.
No. It's not a priority.
No. There's no budget for it.
No. It's not aligned to strategy.
No. You're not next in line.
No. I'm better than this.
No. Just no.
There are many ways to say no. And so many things to say no to.
Great technical professionals and consultants say no a lot. Because it's not the nos that get us overloaded and not doing our best work. It's the yeses we don't have time for that were poor choices, that are outside of scope, that aren't our expertise. You know the drill.
Saying no is part of the job of defining what we do and what we take on.
Saying no doesn't always feel good though. And if we say it poorly (like these 12 examples) it can alienate our clients. And that stifles their creativity. And ours.
There are some clear and simple frameworks which make no sound like yes, and make it easier for you to say no.
Don't you think it would make your life easier to know how to make no sound like yes?
Click here to find out about my Make No Sound Like Yes coaching program.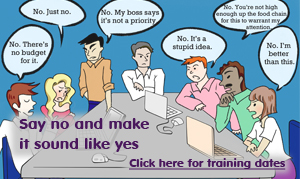 Related posts