In stock
Consultants' Guide Series
$116.34 incl GST
The definitive guide…  set up your consultancy profitably and painlessly
The Consultants' Guides series gives you all the basics for setting up your consultancy profitably and painlessly.
Each of the 11 books outlines a different aspect of consulting, from setting your business purpose to creating the office, to how much to charge and how to get people to buy from you.
If you would like a sample of any of the books in the series, please go to the individual books, links below.
The series includes 11 books:
Push buy below and get all of the books in a single purchase.
You will be directed to download 11 files. If there is any issue please just contact Cindy and she will sort out the problem.
More about the author, Cindy Tonkin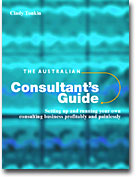 The Australian Consultant's Guide was first published by Business and Professional Publishing in 1999. That's it there with the turquoise cover.
It sold more than 5000 copies in its first year.
In 2014 I re-worked and updated the guide to fit the 21st Century, and re-issued as the Consultant's Guide Series. The series is available in kindle or pdf format. You can download a sample of any one of the books for free.
| | |
| --- | --- |
| Lifetime ACG | what you need to do, what you need to know, updates for the life of the book, join the exclusive club of lifetime ACG members who get everything before the rest! |