If you're just starting out here are 10 commandments for throwing yourself into the marketplace. Ten mistakes to avoid.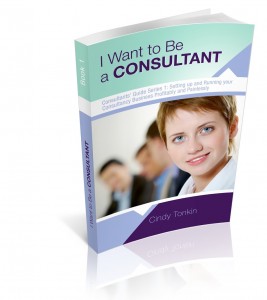 The 10 commandments are:
Know your outcome – are you in it for the money, for lifestyle, for fun?
Look at all sides of the idea – not just the good side – some people romanticize consulting. It is magnificent fun. It can be very challenging. It can be a real bore. Be realistic AND hopeful.
Charge enough – Remember to factor in the costs of everything, including 20% of your time (at least) looking for working and marketing, plus admin, accountant and legal fees. Check out the magic charge-out formula spreadsheet for knowing what to charge.
Factor in your availability, affability and ability. It's not just who you know, it's what they say about you. For more info, read Consulting Mastery, the Ability Myth
Get advisors, supporters and mis-matchers
Remember you're running a business: Consider the Consultants' Companion – improving your consultancy 30 minutes a week or Making your consultancy a business not a job. Set up your business systems for billing, marketing, business planning, keeping in touch with existing clients…
Get out of the house or office. Work doesn't knock on your door.
Let your history help you – Make sure everyone you have ever known knows that you're consulting, and specifically what sort of work you do
Keep learning – All you sell is what you know. Here is a checklist of things you might want to learn.
Maintain your assets (you!) Eat. Sleep properly. Exercise. Learn more.
Find tips on the blog here.
Feel free to browse the articles, guides and courses on this site. And check out Cindy's books: The Australian Consultant's Guide and Consulting Mastery, The Consultants' Companion, Making your Consultancy a business not a job, Eight more ways to promote your consultancy.
See a version of this post on video here.
Related posts