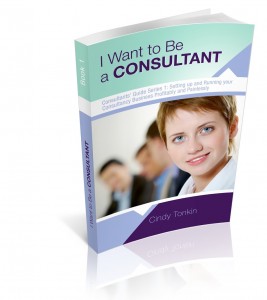 Here are some of the topics Cindy coaches on. These are also available as small group and corporate training topics.
Email Cindy for more information.
Consulting is about soft and hard skills
Consulting isn't just about getting a static amount of knowledge and selling it forever. It's partly about being enthused by your own topic, about constantly gaining knowledge, it's it's also about knowing:
what to do (technical knowledge)
how to do it for individual clients (tactical knowledge)
how to get clients
The technical knowledge you need depends entirely on what your industry is. In Information Technology, for example, updating your technical skills is vital to your life as a consultant.
No matter what your technical field, you need tactical knowledge as well. When clients can find you, then can ask you to work with them. If you they find you and you do well, your business will prosper. If they engage you and you cannot manage their problems, or if they can't find you in the first place, your business will suffer.
So your technical knowledge won't always get you through. Here are some of the softer skills which Cindy Tonkin's coaching and training can help you improve upon.
understanding the selling relationship
commercial realities – making a business work
making sure the client gets what they want
increasing client ownership
Read on, and discover what you know and what you could improve on!
Understanding the selling relationship
The Ability Myth – how clients buy, and buy in, and how to plug into it
Leveraging the 3 step process for winning client confidence (and business)
Becoming a Trusted Advisor – using influence techniques every day situations
Relationship selling I – building a solid foundation
Relationship selling II – leveraging and selling to an existing relationship
Commercial realities – making a business work
Translating ROI – showing clients return on investment when it's not that obvious
Building relevance for your program so it sells itself
It's not that simple – Calculating what to charge so you don't become a slave to the job
Having the vital conversations with clients – when they have a real need
Making sure the client gets what they want
Structuring and taking a good client brief
Asking Effective Questions – the basics of a questioning model to makelistening purposeful
Work with intangibles – how to make it more real for the client
Ongoing client and assignment management – using questions and priorities
Increasing client ownership
Using Effective Questions – allowing the client to be the expert
What a great idea! Using suggestive language to have the client think it was their idea
Clarifying contracts – making sure you and the client are singing off the same song sheet
Using motivational styles to get clients and colleagues on board
Change change change – why some clients just don't get it first up, and how to manage them based on their change approach
Creating ownership – getting client buy in from day 1
Cindy Tonkin can help you improve your business.
Coaching by phone, email or in person.
Corporate training for your consulting team.